Engagement and communication play an important role in deciphering your choices, your satisfaction and your contentment. Take for example working with a trainer. If one develops a solid working relationship with their personal trainer and really gets into it, then I'd bet they will get a lot out of it. Whereas if they show minimal enthusiasm, show up late and don't stay healthy in between sessions, well then we all know that this is a recipe that will produce little if any results. Our health and healthcare operate in a similar fashion and it's why being engaged in one's own health is so important and can be a real game changer. In healthcare, studies have revealed that the more we actively participate and engage in our health and care as patients, the better our health outcomes and satisfaction will be.
Patient engagement is a significant factor when it comes to shaping the quality of your overall life and health. Patient engagement promotes the interaction and communication between the providers and patients, contributes to patient empowerment and better health outcomes. Better patient engagement strengthens not only the trust and faith between the provider and the patient, but also act as a catalyst to maintain continuity of care.
Benefits of Patient Engagement
Active patient consultation and communication between a patient and their provider can increase engagement rates by 60% and higher. Patient engagement fosters benefits not only for the patient but also for clinicians, providers and the greater society.
It empowers the patients to gather their symptoms and healthcare data, which in turn helps to support the clinical decision team to make effective treatment evaluations. With the help of regular check-ups, screenings and immunizations, activated patients are more likely to engage in healthy behavior and participate in preventive care. Studies show that higher interpersonal exchanges with healthcare providers, report better care and experiences as these patients have the skill and confidence to fulfill their needs from their providers. Patient engagement programs have economic benefits as well, as they can help reduce cost through education, information and shared decision making.
Personalized Healthcare
Today, we are witnessing a transition from a fee for service disease centered approach to more patient centered individualized care – from fragmented care to coordinated care; from provider centered care to patient centered care; from patients as a passive participant to fully activated patients. In other words, we are moving towards the model of "what matters to you and your health today".
The patient experience comprises a series of complex healthcare processes with numerous critical points of interactions between the patient and the healthcare provider. These "touch points" such as effective communication with the organization, efficiency, quality of care are the "moments of truths" that lead the patients to form a vivid impression and perception about the organization which help them to decide if they are willing to return or recommend the organization to others.
The Warwick Patient Experiences Framework (WaPEF 2014) distinguishes seven key themes that are important to high quality patient experience and outcome: patient as an active participant, lived experience, continuity of care and relationships, communication, information and support. These themes encourage patients to have a stronger voice in the enhancement of their care experience through responsive services.
Evidence-based measure of Patient Engagement
Patient engagement and involvement is often referred to as a driving force for maintaining the sustainability of National Health Services (NHS), administering long term relations, improving and delivering safer health care delivery and health equity. Recent theorizations have advocated that patients should be considered as important human resources who should actively engage in the health organization along the process of care delivery. Making patients better informed and more concretely responsible for their health and care management is pivotal for healthcare organizations that strive to be sustainable at the economic, organizational and psychological level and furthermore improve patients' adherence, clinical outcome and satisfaction towards value-based care. However, there exists a lack of shared guidelines regarding what patient engagement is and how it may be conceptualized and achieved since there are plethora of terms being used interchangeably in this domain. Additionally, the absence of concrete instruments to potentially measure patient engagement often causes a detrimental effect to the broadly accepted notion that "health care practices need to be aligned with evidence-based insights about individuals' healthcare preferences and needs."
The Patient Activation Measure (PAM) was developed and is utilized as an instrument to measure patient engagement. PAM is a potent tool to understand the activation of patients towards their care and management. Here in the US, we use this instrument widely in order to orient medical practices and now many other countries have also started to adopt it.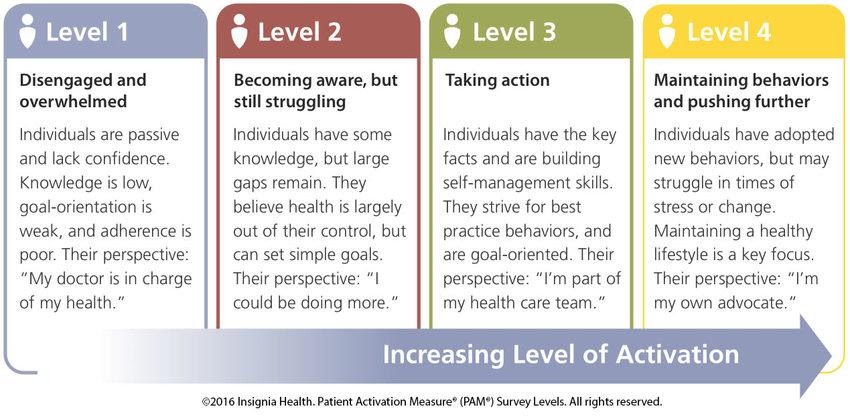 Although the terms 'patient engagement' and 'patient activation' have some conceptual convergence and are often used interchangeably, there exist different meanings between them in relation of the healthcare space. This chart illustrates the subtle differences:
| | |
| --- | --- |
| Patient Activation | Patient Engagement |
| Emphasizes patients' willingness and ability to take independent actions to manage their health and care. | Denotes a broader concept that includes the interventions to increase activation and patients' resulting behavior, such as obtaining preventive care or engaging in regular physical exercise. |
| The concept is mainly limited to the prototypical situation of a doctor-patient consultation. | Concept of "engagement" seeks to consider multiple levels of the patients' fruition of the healthcare. |
| Related mainly to the cognitive and behavioral components of patients' attitude toward healthcare, and it is mainly conceptualized as an incremental attitude that the patient may develop. | Offers a more holistic consideration of the psychological elaboration of the patient about his/her health condition and presents a multi-stage development. |
Considering the differences, policy makers and researchers realized the urgency of having an evidence-based measure to promote the active role of patients in accordance to their emotional, cognitive, and behavioral mindset. For instance, when receiving a serious diagnosis, a patient may not be able to fully participate and engage in their own care management due to their weakened and disabled condition. The healthcare provider at this stage should provide a more systematic assistance and guidance that includes the caregiver's main priorities. Through the patients' engagement journey when dealing with a serious diagnosis, it takes the patient time as they gather knowledge and become more confident and emotionally settled in their actions to deal with their condition.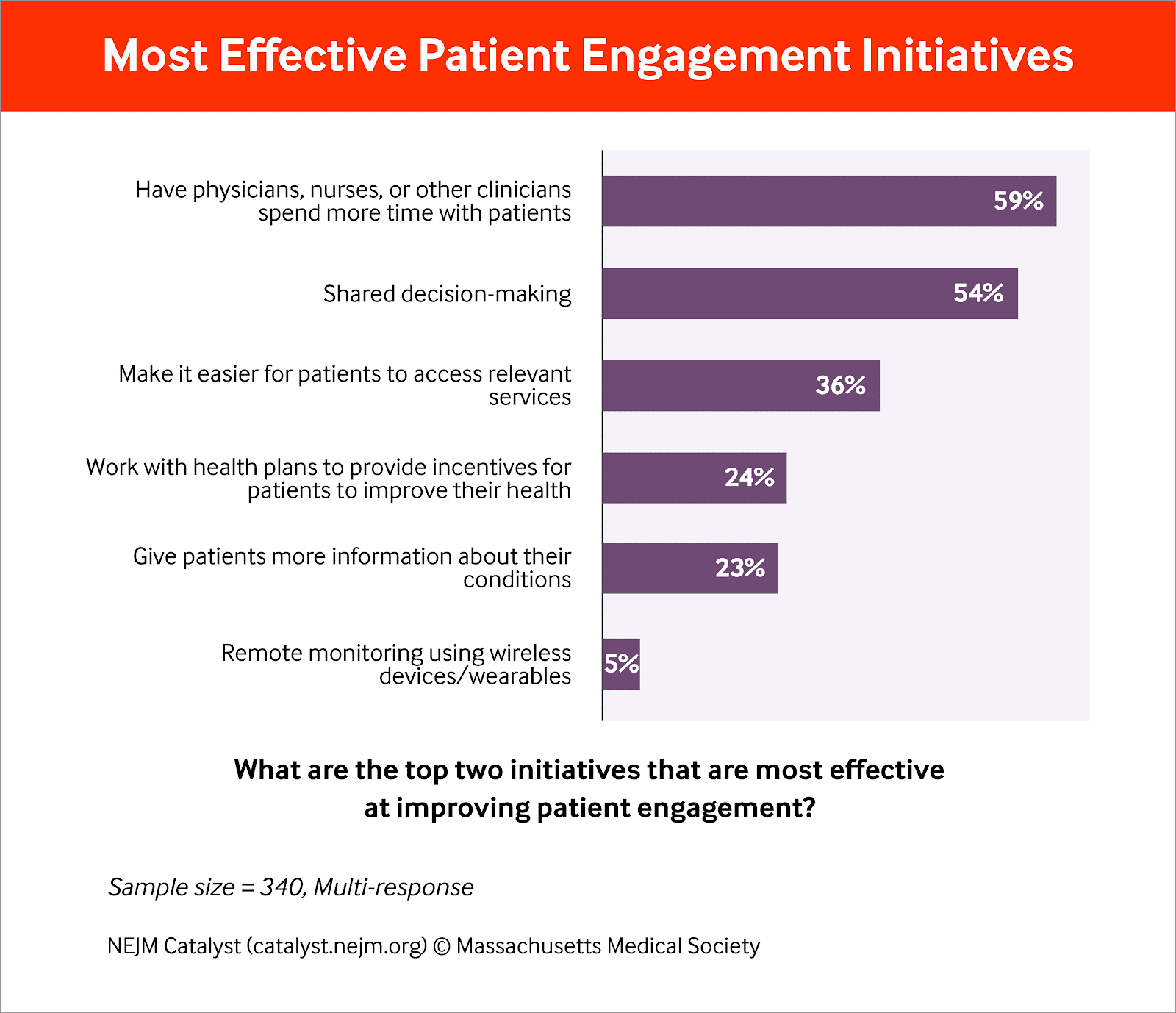 Increasing patient satisfaction by providing higher quality service
If patients are satisfied throughout all aspects of their healthcare experience, then they are likely to turn to the hospital that provided them with exceptional care again in the future. Higher hospital margins are typically distinguished by higher patient satisfaction, according to an Accenture report. American hospitals that gave a superior patient experience gained net margins that were 50% higher, on average, compared to those that provided an average customer experience, the report noted. When a patient feels satisfied with his hospital's interaction, he is likely to have a positive perception of the entire healthcare facility. When a patient is unhappy with his service, he is likely to complain and have a negative perception of a facility, which can cause staff to spend more time on trying to resolve conflicts.
For healthcare organizations, outstanding service can produce reputational benefits, including patient loyalty, high ratings, and referrals. Hibbard and Greene, who authored the findings above, conclude that patients who have better experiences and are more engaged in their care are more likely to adhere to treatment and may experience better health outcomes. Conversely, patients who experience bad service may be less likely to follow up with their clinicians and adhere to treatments. The desire to achieve better health outcomes — a primary goal of any health system — should motivate healthcare organizations to produce an outstanding patient experience. (NEJM, Engaging Patients Using Digital Technology — Learning from Other Industries, June 5, 2019)
High Priority but Low Satisfaction
Although more than 80% of the health caregivers realize patient engagement as a top priority in their respective organizations, there exists resistance and unanticipated complications in regards to their strategies. While some organizations focus patient engagement strategy as 'driving innovation', others struggle at their foundational base. Staffing, human resources and technology serve as the barriers to the engagement concept. Although healthcare providers identify patient engagement as a high priority, only 20% of caregivers are satisfied with their current programs. The remaining "80% of respondents are either unsatisfied or neutral" with the program. As the healthcare industry moves towards value-based reimbursement, it becomes imperative for the caregivers to make strides to improve patient engagement preferences.
Technology: Boon or Bane
Apart from the traditional face to face interaction with an expert or trusted caregiver, frequent real time communication and feedback can also be implemented through IT platforms. The usefulness and accessibility of IT platforms help to promote engagement and better outcomes. Patient engagement can be considered as a "subjective experiential process" which results in the "conjoint cognitive (think), emotional (feel) and conative (act) enactment of individuals in their healthcare management". This procedure comprises of 4 subsequent phases (disengagement, arousal, adhesion, and eudemonic reconfiguration) in which the various "experiential dimensions play complementary driving roles as key factors for promoting patients' advancement in this process". Health technologies aim at augmenting the quality of the patients' personal experience by increasing patients' motivation and engagement in the process.

However, the new requirements of the Health Information Technology have a direct impact on how clinicians interact with the patients. A recent survey reveals that 68% of the physicians thought of leaving medicine because of the time spent on data entry with EHRs (EHRs is responsible for physicians' burnout).
Time For Organizational Change
Amy Schwartz argues for an empathetic approach which involves the users in the patient engagement system design process. She believes that "understanding the experience is important" to the users be it patients, family members, care teams or support people. Holding on to the belief of human-centered design for patient engagement, she highlights the four key points:
Gain an empathetic understanding of users and context of use through contextual research.
Look outside of healthcare for inspiration.
Involve users in the design process.
Prototype and iterate.
Patient Engagement Strategies in a Digital Environment
With the advent of COVID-19, the entire ecosystem is racing towards digital care. Thus, in this situation the patients' role in decision making and shaping the expectations are continuously evolving. Empowered patients are now "demanding care and solutions that are coordinated, convenient, customized, and accessible, and a number of nontraditional health companies are coming forward to address these emerging expectations."
In this era of AI, machine learning and healthtech, with regard to patient engagement, there has occurred a transition from a reactive model to a more proactive approach which supports not only the patients but also the providers. While patients get the assurance of both administrative tasks (securing financial assistance, filling prescriptions etc.) and emotional issues (like dealing with a new diagnosis, understanding treatment options etc.), the organizations get the promise that their products and services will be delivered and administered as intended which in a way will optimize efficacy and income.
Key Takeaways:
Patient engagement is recognized as one of the most crucial components in making decisions and fostering trust and patient loyalty.
Patient engagement is a story of value-based care and an adoption of cross-continuum approach – moving the needle on outcome both inside and outside the hospital.
Increasing patient activation that is measurable promises better outcomes.
Better patient engagement leads to improved patient satisfaction, organizational competitiveness, improved efficiency and lower cost of care.
Author credit: Rudrani Ghosh